On this boarding school blog we have spoken a lot about what it is like to be at boarding school in Switzerland; we have shared with you the typical day-in-the-life of a boarding school attendee; we have posted videos and photos of some of the incredible excursions and fieldtrips that we get to enjoy; we have opened up discussion on important topics such as the pain of separation for parents and boarding students and the differences between public and private education. However, sometimes the most powerful and helpful pieces are those where we hear directly from students about their experiences at Swiss boarding school.
This week we sat down with three students - Adolfo from Spain, Hayat from Bahrain, and Rebecca from Mexico – to talk about what their first term at Brillantmont International School has been like. They all come from different parts of the world and each have their own take on what their first term at a Switzerland boarding school. The following are the highlights from our conversation.
Rebecca:
"When I am not in class, I love to go into town. I really like Lausanne, it is quite different from Mexico. I never get tired of looking at the buildings! My friends that have been here at Swiss boarding school longer are always asking me 'What are you looking at?' - since I'm always looking up at the buildings - beautiful!

I went on the trip to Barcelona this term. I really like that they give us the opportunity to travel to places we have never been, both around Switzerland and in Europe. This term we also went to the famous Swiss city of Lucerne on one of the weekend trips. We went on a boat, ate, walked around the city, and saw the famous bridge.
Next term I am really looking forward to our Habitat for Humanity trip. I joined the Habitat club this term and we are currently fundraising for a service trip to Vietnam. The money is being raised through a raffle during Parent's Day and we are also going to do a Thanksgiving bake sale to raise money.


Brillantmont students in Nepal building homes for Habitat For Humanity in 2015
For the Christmas season, I signed up to go to Zurich for Christmas shopping. I'm really looking forward to that!
The teaching style here is very different from back home. I am doing the A Levels, so all my classes are preparing me for the big exam. The education is more integrated. It is stressful, but I like the change. We get a lot of opportunities and the teaching is really good. If you don't understand something, the teachers support you to understand it. The best improvement for me so far has been in my English writing. That's super!"
Adolfo:
"I love Lausanne, it is like my home city: small and really beautiful. On the weekends I like going to town and doing things like skating. I will also be going to the Christmas market in Montreux this month. It is a great place to buy presents for my family and friends back home.
Being at Brillantmont has turned out to be better than I imagined. Two years ago I was attending boarding school in England and I couldn't go out with my friends to town, we didn't have much independence. So, I really like this place. It is really nice. I work hard during the week and get to relax on the weekend.
What I really love about this boarding school and the lessons is that the teachers try to make us comfortable. In Spain they just have you read the book and take the exam, read the book and take another exam. But here they help you have fun too."
Hayat:
"My first term at Brillantmont has been good. It is very different from home. It is very diverse here and it is just different living somewhere that is not home, an adjustment. I have done so many different activities this term. We went skating and we went to the mountains and did a zip-lining course.
I also went to Barcelona and that was amazing! All of us in the group that went got very close. There were only thirty of us. We bonded since we travelled in a bus together for 15 hours and got to experience a new city together.
We had a great Halloween party as well. It was very professional and organized, not like any of the parties I expereinced at home. They had seating and a witch fashion show. It was fun!
I came to study at a boarding school in Switzerland because I wanted the experience of being away from the things I knew. My country is very isolated and small so I wanted better opportunities to do things. Eventually I think I will go back to Bahrain, to where my family is."
The first term at boarding school can be challenging, but as one can see from the diverse experience of the three students above, it can also be filled with lots of fun activities, new friends, and incredible memories.
Interested in Swiss Boarding Schools?
Interested in learning more about boarding school in Switzerland? Download the Brillantmont brochure and application. If you are at the point of comparing schools, we've also created a helpful tool for you to do an educated comparison with, which you can download here.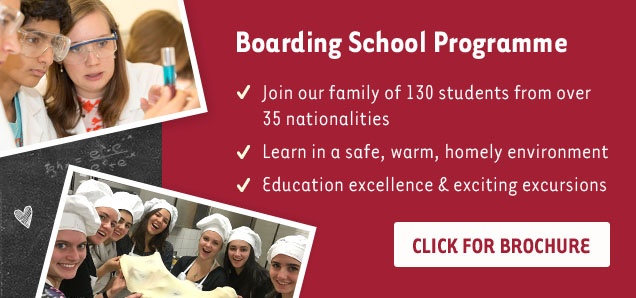 Further Reading
Download our eBook: Why Study in Switzerland?
The day in the life of a boarding school student
8 reasons to choose a Swiss boarding school