Brillantmont marks the beginning of a unique experience in our students' lives, when coming to study in Switzerland. Friendships will be forged, academic excellence will be attained, and the cornerstones of our philosophy will be imparted: curiosity, responsibility, respect and tolerance.
Swiss Boarding School Experience
Living on campus among both their peers and support staff means our students are fully immersed in an environment conducive with educational excellence, so vital at this stage of their school careers.
British IGCSE / A-Level & American Diploma
Brillantmont presents exciting new opportunities for boarding students as they prepare for university on our International IGCSE / A-Level programme and American Diploma.
Some facts about our boarding school:
Brillantmont is home to around 100 boarding students, each living in one of five boarding houses;
Students are housed according to age and gender and are appropriately supervised;
As Brillantmont students mature, they are encouraged to become more responsible.
Our boarding staff live on campus, amongst the students so students always feel safe and secure;
Living with others of different nationalities is an enriching experience, which develops tolerance and sensitivity to people from other cultures;
Even students who arrive in the middle of the school year can fit in easily and quickly make new friends;
Brillantmont also welcomes many day students from Swiss and expat families living in and around Lausanne in the canton of Vaud

Life at Brillantmont International School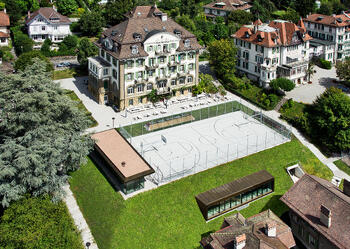 Whether a boarder or a day student, everyone is part of the Brillantmont International School family. Boarding students live in a homely environment supervised by a house mistress and master who live on the campus throughout the year. We closely monitor the wellbeing of our boarders in a family atmosphere in which all are free to express themselves, developing self-confidence and the esteem of others. At all ages, courtesy, respect for others and punctuality remain the keywords of Brillantmont, giving us a reputation as one of the best international boarding schools in Switzerland.
We have qualified, experienced teachers that are multicultural, have excellent pastoral care and work hard to ensure every student is settled when they come to study in Switzerland with us.
Our five-house system provides numerous leadership opportunities to all students, and inter-house sporting events and quizzes help instil a sense of belonging. Everyone knows each other and quickly feels a sense of community, and we see each student as an individual, with unique strengths and talents.