The British, just like the Swiss, have a long and rich history of boarding school education. Centuries of refinement and excellence in both countries have brought forth some of the world's greatest leaders, scientists, authors and more.
Access to world universities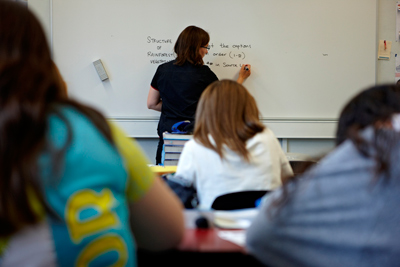 Brillantmont offers A Level exams along with American SATs
The British national school system has a number of stages: Foundation (ages 3-5), Primary (ages 5-11), Secondary (ages 11-18), and Post-Secondary (ages 18 +). From the age of 16, students start a period of two years often called "sixth form" which leads to the A-level qualification exams.
Many international schools across the globe use the International Baccalaureate programme for their students. Brillantmont International School offers a great alternative since it offers British IGCSE/AS and A Level examinations (Cambridge International Examinations) along with American PSAT, SAT and SAT subject tests.
This provides the opportunity for students to learn from the excellent British national school system while benefiting from the cultural and linguistic advantages and the security of Switzerland. In addition it gives access to and preparation for the universities of the world, not just in Britain and North America, but also in other countries across the world. Read some examples of life after Brillantmont, here.
Stability, security & privacy
Studying in Switzerland has always provided international students with an exceptional level of security, care and safety. The Swiss reputation for neutrality, stability and discretion has attracted parents to the best boarding schools for centuries.
Swiss boarding school multiculturalism
In addition, Swiss schools like Brillantmont offer an exceptional multicultural environment that you simply don't get in many British boarding schools. Students have the opportunity to make friends and connections with people from all continents. Brillantmont even applies a nationality quota which guarantees an incredible rich diversity in each class.
Rich language heritage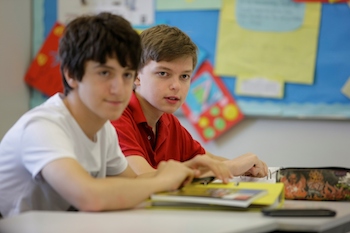 Boys hard at work in the classroom
Language learning in Switzerland is inevitable, since Switzerlan itself has four official languages – French, German, Italian and Romantsch. In addition, five important European countries border Switzerland and provide resources and history to draw from.
This central location and the daily access to multiple languages makes Swiss language education one-of-a-kind. Brillantmont International School is located in the heart of the French-speaking Romandie region and though the classes are taught in English, students can also learn French, German, Italian and Spanish or choose a language such as Russian, Chinese, Arabic. Daily access to the surrounding city provides ideal opportunities to practice the language on a daily basis.
There are many things to consider when looking for the perfect boarding school in the right environment for your child. We hope this blog can help with this decision making process.

For more information on the Brillantmont programmes, click here.





Other articles that might be of interest:
Why Study in Lausanne: International & Multicultural Centre
How Does the Swiss Public Education System Work?
A day in the life of a Brillantmont boarding school student

Photo credit - Gerry Balding