Taking learning beyond the classroom is very important and at Brillantmont, the teachers like nothing better than to show new cities to our students, so they can discover them together. With that in mind, a small group of students headed to the German capital, Berlin - a city which has played a key role in modern European history.

Their busy schedule had a fun edge as they had a cross-city treasure hunt, with specific information to seek out during their week.
The students stayed in Alexanderplatz, which bears witness to Berlin's political upheavals. Since German reunification in 1990, this famous square has had a huge overhaul, bringing it in line with the modern city but there is still lots of evidence of it's chequered history.The architecture was radically modern for the time and designed to impress the world. What better place to immerse the students in this exciting city?

Accompanied by Maths Co-ordinator, Mr Kennedy (and German teacher, Mrs Kottsieper) Mathematical skills were tested, as students measured angles between monuments and over the course of the week mapped and calculated angles and distances between famous sites. A city bike tour was another great way to explore the city, as well as having fun!

The group packed it all in - Panoramapunkt, Potsdammer Platz, the Reichstag, Angela's Merkel's apartment, the Victory Column, Checkpoint Charlie, sections of the remaining Berlin Wall, Berlin TV Tower and encounters with all sorts of famous figures, including a famous mural of Brezhnev kissing Honecker.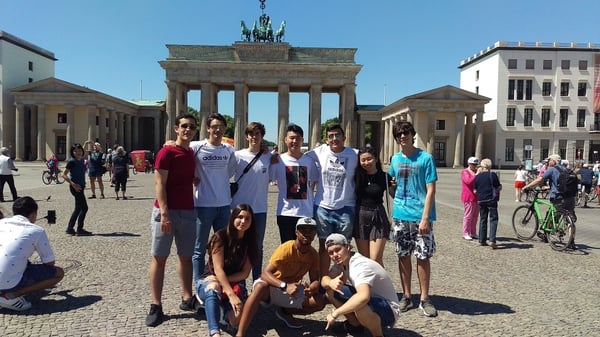 For Valerie, one of several graduates, it was her last Brillantmont trip, so was particularly special, now that "the end is upon us!"
Related posts: