Summer school at Brillantmont has been a tradition for almost 40 years. Children from all over the globe gather in Lausanne, Switzerland to meet new friends, to experience living abroad without their family, try new sports and fun activities, and learn French or English. The course is designed for boys and girls ages 10-17. They have the choice of staying between two and six weeks. This year the course runs from Saturday the 8th of July to Saturday the 19th of August, with spaces still available from Saturday 22nd July.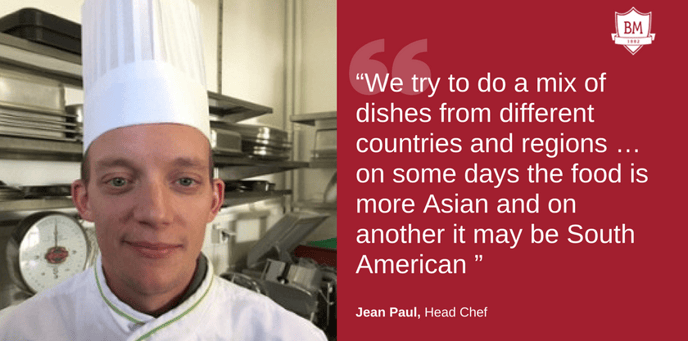 Jean Paul is our head chef at Brillantmont and he is also in charge of the cuisine during the summer school. Last week we sat down with him to talk about the kinds of food prepared for students from all over the world, students who are all accustomed to different kinds of menus.
"We have all types of meals. We try to do a mix of dishes from different countries and regions. For example, on some days the food is more Asian and on another it may be South American," Jean Paul explains.
"Sometimes the students just want simple stuff they are accustomed to eating, but we try to introduce them to different kinds of foods and get them to try new things." It can be challenging at times, because if you ask adolescents what they want to eat they often say pasta, pizza, chips! Our cooking staff tries to mix things up a bit and teach the students about other cuisines.
At the summer course, the weather is usually sunny so all the students and staff often eat outside. "Every Wednesdays, after the excursions, we go to the lakeside and have a barbecue with different kinds of meats and salads. On Fridays, before the disco, we have a barbecue in the school gardens and on Sundays we usually go out for a picnic in the mountains or by the lake, depending on the excursion."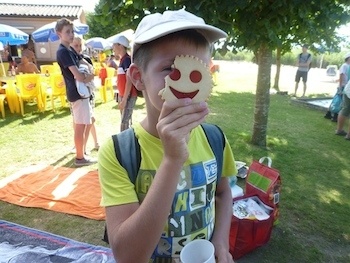 We often get students who have allergies to certain foods or have dietary restrictions due to religious backgrounds. Because of this, Jean Paul always creates two menus. If a student has specific needs they can come to the kitchen staff and they will work carefully to come up with food that the student can eat. "It isn't a problem to accommodate these needs," Jean Paul says, noting that they do it all the time.
The most popular food that students devour is often chicken schnitzels or french fries. You can never go wrong with those! Each meal is carefully planned out to be healthy and fun and goes through a specific approval processes.
"I usually prepare my menus at least one or two weeks in advance," says Jean Paul. "Then I show them to the dietician and then to Mr. Pasche, the director of the school." This enables the meals to always be well-balanced and healthy as well as something that students will love to eat. With all these people working together to ensure an incredible menu is served every day, students are always thrilled with what is offered up to them.
Do you have questions about the food at summer school? Contact us directly and we would be happy to talk with you. To find out more about our summer course and to register your child, follow the link below.
Other articles you might enjoy:
A day in the life of a Summer Course student
A Swiss summer adventure you'll never forget
A boarder recounts his experience at the Swiss Summer School
5 Reasons to Attend Summer Boarding School in Switzerland this Year