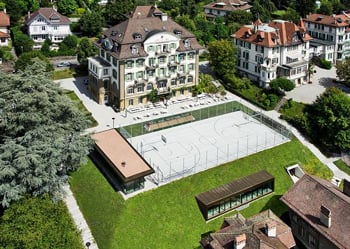 Yesterday, Brillantmont held its first live webinar with participants joining from as far afield as Japan, Turkey and Mexico. We had the opportunity to discuss everything that makes Brillantmont a paragon of Swiss education, including our rich history and traditions, coupled with our modern thinking and standards of teaching.
If you missed yesterday's webinar, never fear, we'll be holding another one next week on Thursday the 31st of October at 2pm CET (check local time). Click here to visit the registration page and receive instructions on how to join on the day.
Boarding at Brillantmont: teaching heritage
Webinar participants learnt about the values that Brillantmont – as both a boarding and a day school – has acquired over its 131-year history. Unlike many schools in Switzerland which are run by educational groups, Brillantmont has been owned and administered by subsequent generations of one family. The school's present owners – Anne Frei, Eric Frei, Corinne Frei – are pictured here. They can each trace their roots back to Paul Heubi, his wife Berthe and his sister-in-law Henriette Neuschwander who founded the school in 1882 – read more »
In our 131-year history, we've equipped many young minds with the tools they need to be successful later in life. More recently, our alumni have attended some of the world's best universities, something we covered briefly during the webinar. We went into this in more detail in a recent blog article – read it here »
Boarding at Brillantmont: modern excellence
Brillantmont may have a long tradition of educational excellence, but we're always forward thinkers. Our buildings are beautiful examples of century-old architecture, but inside they are fully modernised. We also told webinar participants about our new Françoise Frei-Huguenin Sports and Cultural Centre, opened just last year to house a music studio and a 100m2 stage, and offer facilities for team sports such as basketball and football, indoor athletics and fitness activities including weights and aerobics sessions – read more »
Our school's private intranet platform is another example of Brillantmont's 21st-century thinking. With a password, parents can access information about their children's progress, including grades and homework schedules. This is especially important for parents who live far away.
Development of online resource areas per subject continues, allowing students to delve deeper into a topic, extending learning beyond the classroom. These resources include sample essay questions, background notes, academic articles and links to further information, such as podcasts or video presentations – read more »
It's also important to remember that Brillantmont classes remain small at around 15 students. This allows us to provide a focused, personalised education to all our students. So if someone is particularly good at maths, our teachers will give them more challenging material so that they are always improving, and never bored.