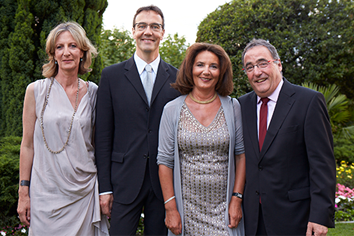 Throughout its 131-year history, Brillantmont International School has been administered by five subsequent generations of one family, all of whom have had an influence on the school's development and ethos.
(Pictured, the current Brillantmont School Board: Anne Frei, Eric Frei, Corinne Frei and Philippe Pasche.)
The beginnings of Brillantmont lie with three key figures – Paul Heubi, his wife Berthe and his sister-in-law Henriette Neuschwander. In 1882, they founded the school that was to become the modern Brillantmont International School. It was also they who bought the premises we use today, overlooking Lake Geneva.
Moving forward in time, we come to one of the most significant figures in the school's long history – Françoise Frei-Huguenin (pictured) who led the school for nearly forty years. The granddaughter of Brillantmont founder Paul Heubi, Françoise trained as a social worker but joined with her family in leading the school when her mother Molly Huguenin-Heubi became ill. She began directing the school with her father in 1962, and carried on the tradition for almost four decades.
Françoise Frei-Huguenin
Along with her husband Philippe Frei, Françoise is widely credited with being responsible for ensuring the continuation of Brillantmont. In 1976, she and Philippe made the decision to sell off some of the land to raise money to buy out their cousins' shares in the school. The cousins had been planning to close the school, but thanks to Françoise and Philippe Brillantmont survived to serve future generations of students. Their work also reunited the school, which at that time was run as two parts – Chateau Brillantmont and Villa Brillantmont.
When Françoise became ill, she stepped down from directing the school, but her involvement with Brillantmont was not to end there. Even after she officially retired, Françoise continued to live on the school grounds and took a great interest in school life, even presiding over the school Board.
Sadly, Françoise passed away in 2007, but she is fondly remembered for her dedication and enthusiasm for the school and its students.
The Frei family has also been heavily involved in Brillantmont's latest development, a multi-purpose hall. The hall's design is the work of one member of the family's latest generation, Brillantmont co-owner and architect Eric Frei. A highly skilled architect, Eric used his talent to benefit the school, overseeing the refurbishment of the older buildings, the installation of modern technology and the design of the innovative hall, which has been built underground to avoid spoiling the school's picturesque and historic surroundings.
The hall, which opened in 2012, was named the Françoise Frei-Huguenin Sports and Cultural Centre in honour of one of the school's most revered figures.
Mr Pasche and Ms Boland
Sarah Frei aka

Ms Drewry