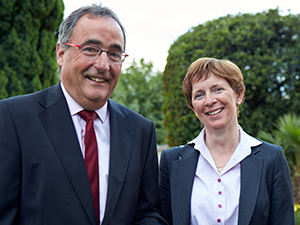 Brillantmont has packed a lot into its 131-year history, but it is as ever a school that looks to the future as much as the past. With this in mind there is much to look forward to in the coming years, as we'll discover in the final part of our History of Brillantmont series.
Click here for Part 1, Part 2 and Part 3.
Brillantmont: a winning team
Whilst the owning Frei family is still very much involved in Brillantmont at Board level, the daily running of the school has been in the more than capable hands of Mr Philippe Pasche, Director General for several years. Mr Pasche has not only brought his managerial expertise to the school over the past 35 years, but also his love of sports and many alumni remember him fondly as their ski teacher. Ms Geraldine Boland, Deputy Director, began her Brillantmont life nearly 25 years ago as a boarding maths teacher but quickly progressed to running the academic side of the school. She continually strives to develop new ideas and move the school forward, with the student's best interests always to heart. Sarah Frei (Drewry) also started out in the boarding school, teaching English, before putting her skills to use in the communications and PR domain as Head of Marketing.
Every member of staff, whatever their role in the school, contributes to the continued success of Brillantmont, building on and never losing sight of the values which have guided the school since 1882.
Brillantmont to head to South America and Asia
Maintaining a strong connection with students and their families is an important aspect of the school ethos and, as part of this, members of the school are traveling to Mexico and Colombia later this year to meet the families of current students and recent leavers. The trip will strengthen existing connections and nurture relationships with future students looking to choose Brillantmont for their education.
Trips to China, Japan, and Korea are also planned for this year, showing just what a global school Brillantmont has become. Are we coming to a place near you? Check out our website to see our travel plans.
Looking forward to school accreditation
With students from so many countries now calling Brillantmont their home, and their families entrusting their children's education to us, staying on top of standards is another important aspect of the school's philosophy. Work is already underway to ensure the high standards already in place not only remain, but are improved upon year after year.
The accreditation process is progressing with an accreditation team due to visit the school in spring 2014. As part of this process, the school community has been working on areas for improvement, ensuring that the school meets the needs of each and every student, no matter whether they study the British or US programmes.
Brillantmont in the 21st century
In recent years, the school has focused on developing its technology to fit the 21st century, by developing a new website and creating a private intranet platform where students can access their homework and where parents can follow their progress and grades.
Development of online resource areas per subject continues, allowing students to delve deeper into a topic, extending learning beyond the classroom. These resources include sample essay questions, background notes, academic articles and links to further information, such as podcasts or video presentations.
These developments should benefit Brillantmont as it looks to continue educating students from around the world for not only another 131 years, but many more after that!