Switzerland offers a diverse array of both private and state schools. Each of the twenty-six cantons has authority over their own public schools, creating quite a bit of variety among their educational institutions. It can be difficult to make the right choice for your child when it comes to their middle school and high school education. Some parents look in their neighborhood for the nearest school and send their child there. However, others broaden their search to include the whole country or sometimes even the whole world to find the best place for their children. Which kind of parent are you?

When looking at schools in Switzerland it is important to keep in mind some of the key differences between the state and private school systems.
Swiss public schools are built to cater towards the Swiss population and are strongly influenced by Swiss culture. The local dialects of language, such as Swiss-German in the German speaking regions, are often spoken among the students, and it can be more difficult for foreign students to integrate. This holds true in the French speaking part of Switzerland where swiss public education is in French. In addition, although language education is good in many state schools, offering a number of second or third language options to their students, cultural enrichment and education is more limited.

Of course, since Switzerland is a multicultural country, a class in the public system may be composed of students from many nationalities. However, the international curriculums taught in private schools enable them to celebrate this cultural diversity and use it to develop global awareness and cultural competency. Students are able to engage with teachers and students from all over the world and begin making friendships and connections that will last a lifetime. Language learning is often provided in a more all-encompassing form where classes are taught in English with extra support for those students for whom it is not their first language. In addition to this, classes are often offered in other languages such as French. For schools like Brillantmont that are located in the French-speaking region of Switzerland, students have the opportunity to immerse themselves in the French language and culture in their local community as well as through their school classes.
Private international schools also tend to attract members of the expat community. Families that have moved to Switzerland from other parts of the globe for work often find themselves looking for a school for their children in the new country. International private schools in Switzerland provide a uniquely diverse community where international and Swiss students can interact and have a better opportunity to pursue their future higher education and careers all over the world.
Take all of these criteria into consideration when deciding on the right Swiss school for you. Find out more about our Middle School and High School programme which we offer for both day and boarding school students from over 35 nationalities.
In addition, if you have any further questions please feel free to contact us online via our contact form.

Brillantmont also offers a Summer Course that runs through July and August for boys and girls 10 to 16 years of age. For some, it is a way of getting to know Brillantmont before starting the full year in September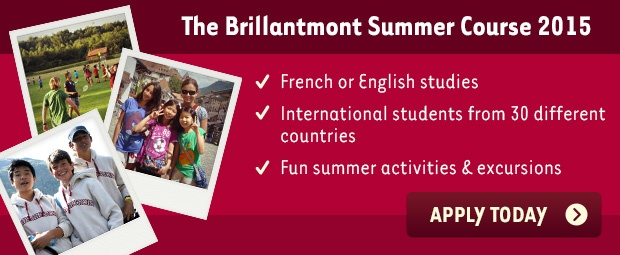 Other articles on the same topic:

The importance of a good middle school education
10 Great Reasons to Choose an International School in Switzerland