Last week was Reading Week at Brillantmont International School. This has become an annual tradition at our Swiss boarding school and the focus this year was on drama! Every year we select a special theme and build a week of experiences around it. For instance, one year the focus was on poetry, and another year it was fantasy. Have you experienced a Reading Week while attending boarding school? What were some of your favorite memories or activities from this week?
Marie-Odile, the school Librarian, was one of the teachers behind Reading Week this year. She was very happy with the success. "This year we had an actor, Tom Davey, from the Shakespeare Globe Theatre in London who gave a general presentation to the whole school followed by workshops with different English classes and the Drama Club." These were all very interactive and students got to try hands-on activities.
She went on, "For one afternoon all classes stopped and different teachers taught workshops relating to drama. Some students got to do a mask-making workshop, while others went with their French teachers to Vidy theatre in Lausanne to discover what goes on behind the scenes. We also had a radio drama workshop, a shadow puppet class as well as a very original musical workshop on Economics." Below are posters for the workshops on radio drama and Chemistry, the movie: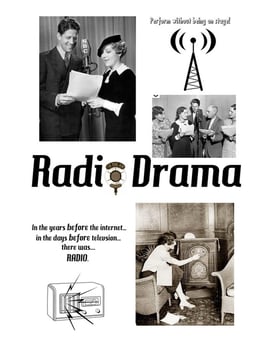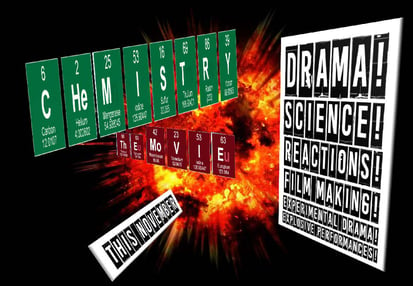 Maria from Spain shared with us the fun she had in the mask-making workshop. "Each of us made a mask based on the group's theme. Ours was Disney characters. For instance, one of my friends made a mask from the Lion King and another chose Tinkerbell." Maria found this workshop great fun and noted, "In my old school we didn't have a Reading Week so I really enjoyed this one."
Megan, a British /Swiss student said,
"Reading Week always reminds me how much I like to read. I already read a lot, but when this week comes around again I realise I've not read in a long time and it motivates me to read more."
Through Reading Week, students also discovered how current Shakespeare really is. These many workshops and interactive experiences allowed them to feel Shakespeare in a way that took them beyond the difficulty of the language. Megan added, "I think what's really good about this week is that someone comes in who inspires you in some way or another even if you're not keen on the theme. For example, you might not like drama but the actor from the Globe Theatre couldn't fail to inspire you."
Every day, at a fixed time, for 15 minutes, the whole school stopped, pulled out a book and read. Megan said, "I really like to drop everything and be able to read. It's very creative , in the middle of chaotic schoolwork, to be able to open a book and just get lost in it."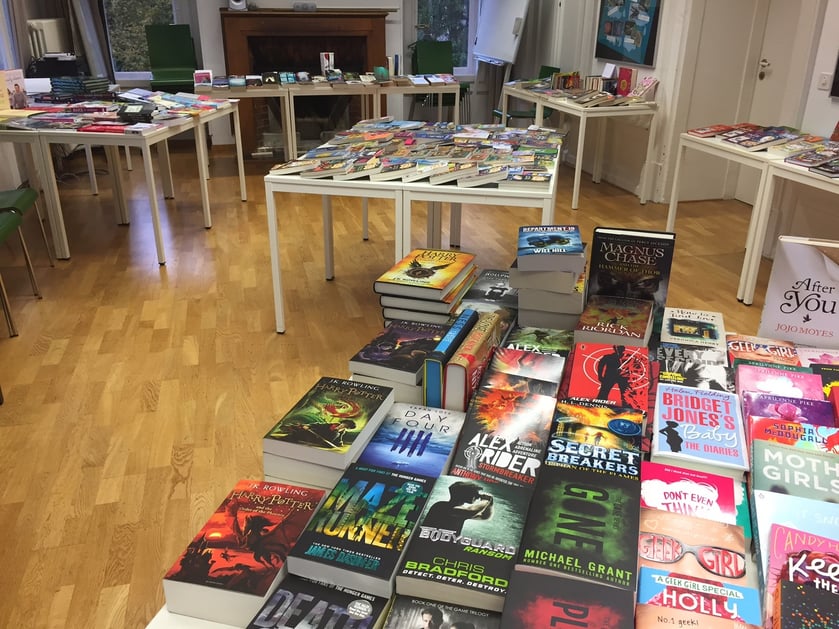 Towards the end of the week we had a book fair in the library. Here there were many English books available for students to purchase thanks to a local English bookshop, who had chosen books of particular interest to the various age groups attending the school.
A final highlight of the week was the surprise flash mob that was put together by the students in the drama club, led by Mrs. Harrison. They got up in the middle of the crowd of other students at lunchtime and recited extracts from Shakespeare's A Midsummer Night's Dream, earning a huge round of applause. Acting out Shakespeare's words enabled them to better understand this difficult material.
A website was created to showcase this year's Reading Week. You can browse it yourself to get more insight into what the students experienced and why they enjoyed themselves so much.
Did the boarding school you went to have a Reading Week? Please share with us some of the activities you tried. Do you have ideas of other fun things for students to do during this annual tradition? We would love to hear from you! Comment below or send us an email with your ideas. Think others may have some good ideas? Share this blog with them through social media.
FURTHER READING
Extra Curricular Activities at Brillantmont
Brillantmont attends Model United Nations