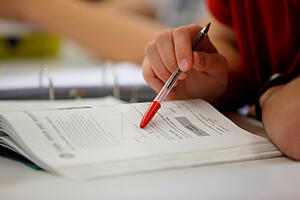 Studying for A Levels is one of the most important times in a student's educational career, determining their path to college or university. Therefore, it's good to know what to expect with regard to attending a boarding school like Brillantmont for A Levels.
Brillantmont is one of just a handful of private boarding schools in Switzerland offering A Level programmes internationally recognised by the world's top universities. These qualifications are hugely challenging, requiring a great level of commitment from students who wish to really succeed. Boarding schools provide an excellent environment, where students can immerse themselves in educational resources, supported by staff and other students alike, to the point where hard work and study becomes part of daily life.
However, there is such a thing as too much studying, and it can often fall upon teachers and fellow students to notice when someone isn't taking the breaks they need, from time to time. Students within the A Level boarding community can help each other establish and maintain effective routines, which include time with notes and books, as well as rest and relaxation.
After you've spent two years studying your A Level subjects, where can they take you? Boarding schools, especially those with a heritage such as Brillantmont's, have many years of experience helping young people make the transition to college or university.
The A Level is one of the most highly regarded university entry qualifications in the world. All UK universities accept them for admission, as well as 450 universities in the US, including Harvard, Princeton and Stanford. A host of other prestigious universities across the globe accept them as entrance criteria.
With smaller classes, modern teaching methods, varieties of ways to learn inside and outside the classroom and extensive support networks, international private boarding schools like Brillantmont offer perfect environments in which to help you achieve the A Level results you need for the future.
Learn more about A Levels by reading our two-part series on these exams (click here for Part 1 or Part 2). You can also download our ebook comparing A Levels to the International Baccalaureate (IB), which contains information about the two programmes that could have a bearing on a student's choice of schools.