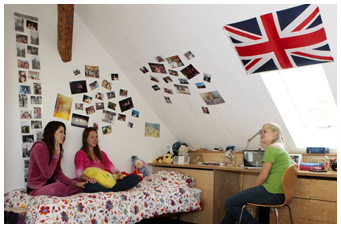 When you send your children to boarding school in another country, even one with an outstanding reputation such as Brillantmont, it is natural to have many questions about how they will settle far from the family home, often for the first time in their lives. Read our parent's guide to boarding at Brillantmont.
1. Daily Activities
In the past on our blog, we've looked at a typical day in the life of a Brillantmont boarding school student. We would encourage parents to have a read of these items to see just how much hard work, fun and enjoyment is packed into each day.
2. Safety, Pastoral Care and Living Arrangements
However, we also understand that for parents, a child's well-being and welfare is of the utmost importance. This is why the pastoral care at Brillantmont is of such high quality that every student that stays with us feels safe and secure with staff always present, yet have the freedom to develop as his or her own, independent person.
Each child lives in one of five boarding houses under the supervision of a caring team of staff who live on campus. Each child will share with others of the same age and gender and will share a room with another student, of a different nationality.
The dining room is always buzzing with life, with healthy balanced meals prepared for your child throughout the day. The rooms are well-appointed, comfortable and many offer outstanding views across the Lausanne region, overlooking lakes and the Alps.
3. A Multicultural School Family
There are many good reasons why attending a boarding school is a great idea but the cultural aspect of boarding at Brillantmont cannot be overstated. Your child will not only immerse themselves in local culture, but that of their new peers, learning directly from them about life in other parts of the world, forging friendships that span the globe and which last forever.
4. Independence and Personal Development
A boarder at Brillantmont, while always cared for and nurtured, is also encouraged to be independent and take responsibility for themselves, their belongings, finances and much more. At Brillantmont, we expect high standards from our boarders, and every year all our children exceed our expectations.
5. Settling into Life as a Boarder
Settling in for your child is obviously a key issue, but our team of experts at Brillantmont will help your loved one settle into life as a boarder at the school and from that, we will observe them foster new friendships and grow into a confident, happy and educated citizen of the world. You may like to read top tips for starting life in an international boarding school.
Experience has told us that sending a child to board at Brillantmont can be a more stressful experience for the parent than the child! However, you can rest assured that if your child boards at Brillantmont, you are going to gift them an experience that will enhance their life in so many different ways, well beyond that obtaining a top class education.