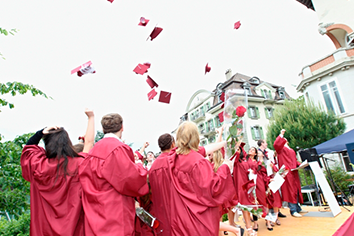 Deciding to send your child to a boarding school in a foreign country can be difficult. Likewise, attending a school away from home as a student can be daunting. However, the benefits of going to boarding school abroad more than outweigh any concerns. Here are five reasons why attending a boarding school abroad is a great idea.
1. Teaching excellence
International boarding schools and their teachers have very high standards when it comes to their curriculums and therefore attract superb teaching talent. Such schools tend to have smaller class sizes so students receive more attention and teaching that suits their individual abilities. Many boarding schools offer internationally recognised qualifications, meaning graduates have broad access to further and higher education, and careers, all over the world.
2. A wealth of culture
Spending time in another country offers students the chance to experience a different culture, to try new activities and learn a new language. While the majority of teaching at most international boarding schools is conducted in English, a high priority is also placed on learning and speaking in other languages while immersion in the local culture is also encouraged.
Here at Brillantmont, our international students are also given the chance to mix with students from around the world and learn about their cultures, thus broadening horizons and preparing them as true citizens of the world.
3. Extra-curricular activities
Time at boarding school not taken up with classes is filled with all kinds of interesting and educational extra-curricular activities, which students of other types of school may not otherwise experience. From weekend sports or a trip to the opera to summer camps, life at boarding school is anything but boring. Some schools like those in Switzerland (including here at Brillantmont) can also capitalise on their beautiful surroundings with extra-curricular activities including hiking and skiing.
4. Lifelong friendships
Starting at a new boarding school can be tough, but every student is in the same position to begin with and the friendly and collegial atmosphere encourages students to work together and support each other. From these beginnings away from home, lifelong friendships can develop which will provide support for many years to come.
5. Independence and life skills
For some young adults, the first time they experience independent living is when they go to university and struggle because they do not have the required skills. At boarding school, students will be expected to care for their belongings, take a part in managing their finances and make sure they are in the right place at the right time – all from a relatively young age.
Under the guidance of caring teachers and with help from their fellow students, children can nurture these important life skills at an earlier age, and Brillantmont is no exception. We prepare our students for life outside of school – intellectually, emotionally and practically.