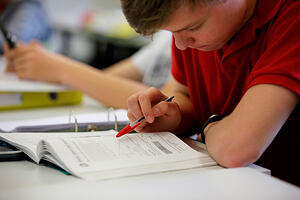 Sending a child to school abroad for the first time can be a concerning time parents, but at Brillantmont we've already seen why boarding school in a country like Switzerland can be a wonderful, life-enriching and indeed life-changing experience.
It is very rewarding to know that parents never think twice about their decision when they come to appreciate both the academic progress their child makes at a school like Brillantmont, and the caring, multicultural and otherwise stimulating environment. This is clearly demonstrated in this selection of testimonials from parents who think that sending their child to Brillantmont as a boarder was one of the best decisions they could have made for their future well-being and success.
American parents Mr. and Mrs. Gage sent their son, Jeremy, to Brillantmont from 9th Grade right through to graduation. They wrote:
"When we learned of a chance to spend two years in Switzerland, we had some initial doubts if it was the right time. Our son didn't like the idea at first [but] we were sure he would see it differently, when looking back on it later in life. We were happy to find a school in exactly the right place - Brillantmont. He immediately made friends among many different nationalities from all parts of the world.
"Since he has been here he has visited at least ten other countries. We can see how much he has matured. He has always had confidence, but he now has added a broad world outlook that would not have been possible if he had stayed in his home country."
The French-speaking Diehl family sent their two children, Xavier and Marie-Laure to take British A Levels and they shared this positive view of life at Brillantmont:
"Our two children arrived at Brillantmont late in the 10th and 11th grade respectively and found a similar, friendly, welcoming atmosphere to the American schools they had moved from in Florida. They certainly appreciated the hard work and individual attention their teachers were able to give them in small classes.
"Experiencing life at Brillantmont has helped Xavier and Marie-Laure develop a greater sense of what they want to do in the future and Brillantmont has given them the skills and confidence to pursue those goals. It is a caring, respectful school where the children live and learn in a friendly, positive atmosphere."
American/Indian couple the Bhirangis were also glowing in their praise after sending their two children Raoul and Siobhan to Brillantmont:
"At Brillantmont International, our children settled well, especially because of the attention paid to individual needs, strengths and areas of challenge. The teachers in small classes are able to teach each child with the individual's learning style in mind.
"Being in a small close-knit school allowed the children and myself to interact more closely with the teachers/staff and the children to become more involved with school activities. Also, being both a day school and boarding school gave my children insight into the lives of students who are away from their homes, and a different perspective about life, instilling confidence and sense of responsibility."
Finally, The Smith family, whose two children followed British courses, said:
"We greatly appreciated the interaction and collaboration with the school to enable our son to grow not just academically but in many other ways. The 'can do' attitude of the school and individual attention provided a real contrast with our experience in the local state system.
"We would and have highly recommended Brillantmont to other parents."
Read more testimonials and touching stories from Brillantmont's friends past and present, in our new ebook called Why Study in Switzerland? In it you'll find interesting information about Switzerland – from the academic landscape to the culture – and why it's a fantastic country in which children can learn and develop. Visit the website to download the ebook »