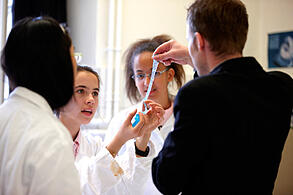 If you've had a look at the fantastic summer courses on offer at Brillantmont International School, then no doubt you'll be considering sending your child to participate in one of our courses. Following on from our blog post on what the experts are saying about educating your child in Switzerland, let's take a look at some fantastic facts about Swiss boarding schools.
There are around 100,000 students attending the 260 recognised private schools in Switzerland each year – Many of these students hail from around the globe and can choose from a vast range of highly regarded international education systems.

Switzerland has a long tradition of pioneering education – Switzerland has always respected the value of education and has been home to some of the greatest educational pioneers in history including Jean-Jacques Rousseau, Johann Heinrich Pestalozzi and educational psychologist Jean Piaget, famous for his theory of the four stages of cognitive development.

In Swiss boarding schools 80% of students are foreign, with 20% home-based – This contrasts sharply with UK boarding schools where the quotas are the opposite (80% home based, 20% foreign). This means Swiss boarding schools have a far greater capacity to embrace multilingualism, different cultures and experiences, all of which enhance an already impeccable education. Brillantmont is a good example of a Swiss international school that boasts multicultural diversity with over 35 nationalities for a student population of only 160.

Many private boarding schools promote other languages in addition to English – For those interested in modern languages, the fact that many schools such as Brillantmont will not only teach in English, but also promote an excellent knowledge of French, is a huge boost. This is especially true in a country where there are four official languages – French, German, Italian and Romansh – with English often acting as a lingua franca.
With around a dozen elite boarding schools across the country, of which Brillantmont is a key contributor, Switzerland is an ideal place to send your child to boarding school to receive a complete, international education that is globally recognised, affording them as many advantages as possible to get ahead in life.
Brillantmont offers several boarding school programmes you can send your child to, including our Summer Course, Middle School and Secondary Programmes. To find out more about life at a Swiss boarding school, get in touch with the school to arrange a visit or to discuss your requirements.