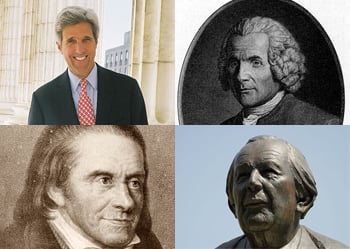 Switzerland has a long history of educational excellence, with pioneering educationalists such as Jean-Jacques Rousseau (pictured top-right), Johann Heinrich Pestalozzi (bottom-left) and Jean Piaget (bottom-right) all hailing from this influential country at the heart of Europe. Switzerland was also one of the first countries to adopt the teaching principles of Maria Montessori, principles that have now spread to schools throughout the world.
But what do we really know about Swiss education? What do the reports and experts say? Let's take a look at some facts, figures, quotes and anecdotes that demonstrate how valuable a Swiss education can be for children now and as the foundation for their future careers and lives as citizens of the world.
The Rise of the International Boarding School
In a Forbes article on Europe's boarding schools, Robin Brooke-Smith of education consultancy Creative Consulting said: "International education has become a real growth area thanks to globalisation. It is becoming increasingly important for employees of multinational corporations to be able to get the best education wherever their jobs take them."
Our very own Sarah Frei, Head of Marketing at Brillantmont, was also quoted by Forbes as attributing the great success of Swiss international boarding schools to "all the outdoor possibilities it offers, in a safe environment."
Facts and Figures about Schooling in Switzerland
According to a 2013 report from the Organisation for Economic Co-operation and Development (OECD), the employment rate for every person that receives a Swiss education of any kind and at any level is the highest among all the countries it surveyed, at 86%. This is rather a broad national figure, encompassing many different kinds of school and levels of education, but it does show how well regarded Swiss schooling is among employers, and how well geared teaching in Switzerland is to higher education and the workplace.
Higher Education
Education in Switzerland doesn't stop at the high school level. Swiss secondary schools, especially its prestigious international boarding schools, open doors to universities the world over. However, for real excellence in higher education, we don't have to look too far. According to the Financial Times, the University of St Gallen in Switzerland has been the top business school from which to gain a masters in management for the last three years running. Graduate employment from its management programme is at 100% and the average graduate salary is at $80,081 p.a., giving the university the highest overall value – some 70 places ahead of the London School of Economics (LSE).
A Famous Alumnus
US Secretary of State John Kerry (pictured), while not an educational expert as such, did attend the Institut Montana, a private boarding school for boys near Zug where he learnt to speak French fluently. According to the Huffington Post this European influence has served him very well on the international stage as an expert in foreign policy. Kerry of course has spent much time in Geneva this year discussing events in the Middle East.
With all this in mind, as a parent considering sending your child to a boarding school abroad, why would you choose anywhere else? Click on the image below to download our boarding school information pack, and then get in touch with the school to arrange a call or a private tour.