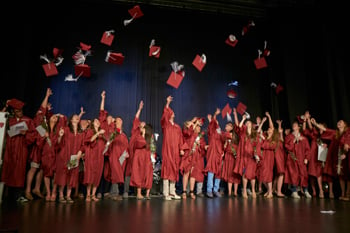 A Swiss education really does open doors to the world's best universities. Here's a rundown of where this year's graduates are headed, with links to previous articles and testimonials from our worldwide family of alumni.
July was a time of great celebration – and a few tears – as we said good bye to a class of graduating students, thus completing many fulfilling years attaining a Swiss education, with a distinct international aspect, here at Brillantmont.
We said good bye to Ekaterina Dopiro from Russia, who also received the Brillantmont Prize of Excellence. Opting to stay in Lausanne – as many of our alumni have done in the past – Ekaterina secured a place at the prestigious École Polytechnique Fédérale de Lausanne (EPFL). Read more »
Koffi from France, who is now studying at the Glion Institute of Higher Education here in Switzerland – and one of the top three hospitality management schools in the world – said of his three years at multicultural Brillantmont: "Today, after having met all these nationalities here in Brillantmont, I feel myself to be a citizen of the world. I've learned so much from each person that I met here. You are all parts of me and I will never forget you." Read more »
Jordi Godayol from Spain, another recent graduate, said: "I chose to study here in Lausanne at the Mechanical Engineering at the École Polytechnique Fédérale de Lausanne (EPFL) because it's in the top 25 universities in the world; invests heavily in each of its students; and it is in Lausanne that I feel most at home. Being able to continue my hobbies, and the presence of an international airport, were also significant factors." Read more »
Fernando Baptista from Brazil was accepted by no less than five top UK universities. He picked Business Studies and Economics at the University of Manchester, one of the UK's most respected educational institutions. Fernando graduated with A Levels, which are accepted at all UK universities – it is the diversity of educational programmes in Switzerland that made this possible. Read more »
The buzz of London life always proves attractive to our students and this year several of our graduates headed there. Rafael Bodega is studying Theoretical Physics at top-ranking University College London; Audrey Frei is enjoying the challenges of Philosophy, Politics and Law at Kings College London and David Musujenko has embarked on Economics with Politics and International Relations at the recently founded, prestigious private university The New School of the Humanities, London. Read more »
Of course not all our alumni stay in Switzerland or head to the UK. Northeastern University was perhaps our best-attended US university from our most recent graduating year. We also have former Brillantmont students at New York University (NYU), Boston University and the American University, Washington. Not to feel left out, universities in France, Japan, Brazil, Spain, Italy, Portugal and Korea, all welcomed Brillantmont graduates.
Now that you've read about just some of the excellent universities our students were able to attend thanks to their time at a Swiss international school, why not learn more about the country, why it is so great for developing young minds, and what's on offer here at Brillantmont? Speak to us about schooling in Switzerland? Feel free to contact us or book a tour of the campus when you are next in Lausanne, Switerland.