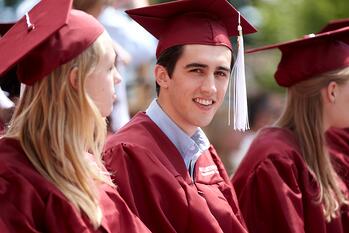 Brillantmont alumnus Jordi Godayol from Spain tells us about his time here, and how his A Level studies gave him excellent university options including a place at one of the world's top academic institutions, right here in Lausanne.
My name is Jordi Godayol, I'm Spanish, 19 years old and a former student at Brillantmont. After living in Barcelona and Paris, my family came to live in Switzerland in 2009 for professional reasons. I took my A Levels at Brillantmont and decided to continue my studies in Switzerland. I have just completed my first year of Mechanical Engineering at the École Polytechnique Fédérale de Lausanne (EPFL).

When I arrived in Switzerland, I was due to finish my last three years of school before university, so a good choice of school was essential. My parents and I chose Brillantmont for two main reasons.
Firstly, I could continue my studies in the British curriculum. A Levels are renowned in England and abroad. In my case, the EPFL accepted me straight onto the degree programme without having to take a one-year preparatory course.

The second reason for choosing Brillantmont, and certainly the biggest difference when comparing other schools, was the personalised, specific advice that Brillantmont could give me to allow me to achieve my goals. The number of students in each class is very small, which allowed us to reach our maximum potential, bolster our strengths and improve on our weaknesses.

In addition, Brillantmont gave me friendships that will last for the rest of my life, and memories and experiences that I will never forget. It also gave me the opportunity to lead and work as part of a team – I had the chance to go to the Model United Nations (MUN) conference in The Hague and Singapore. The reward of being chosen ambassador for Brillantmont, when I was last at a conference, was a huge honour.
During my years at Brillantmont I had the chance to learn Chinese, and for the last three summers I've visited China to study. It would have been much more difficult had I not grown used to living in an environment with many different nationalities and cultures, like here at Brillantmont.
Brillantmont also introduced and encouraged me to cultivate Swiss spirit and culture. For the past three years, I have been a monitor at the Swiss Ski School in Verbier, as well as being selected for the Swiss Rugby team. I ran the half marathon in Lausanne at the age of 16, and had the opportunity to do an internship in a Lausanne Engineering company.
Last summer, I had to choose where I would attend university. With the help of the Brillantmont Academic Head – whom I admire and would like to thank a lot – I was able to choose between universities in the United States, United Kingdom or Spain, or stay in Switzerland. My A Levels opened the doors to study in universities where all my future goals would be within my reach.
I chose to study here in Lausanne at the EPFL because it's in the top 25 universities in the world; invests heavily in each of its students; and it is in Lausanne that I feel most at home. Being able to continue my hobbies, and the presence of an international airport, were also significant factors.
I love living in Lausanne, so why leave Lausanne when I can continue my studies here?