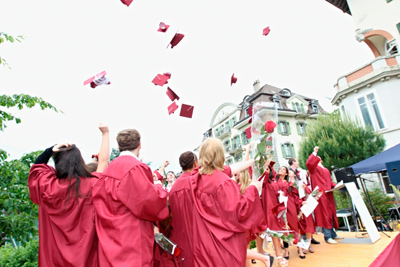 As a parent considering schooling options, there are many reasons why an international education in Switzerland would be perfect for your child. From superb university prospects and diverse multiculturalism, to standards of teaching and excellence that are second to none, we've picked ten of the best reasons to give your child something that will serve them well for the rest of their lives – a Swiss education.
Switzerland is a leader in private education: tucked between the breathtaking mountains stand international private schools and colleges that have helped forge this reputation. The Swiss Learning association groups together accredited boarding schools with programmes that recruit internationally. Member schools, including Brillantmont, are accredited by the Council of International Schools and the New England Association of Schools and Colleges. Read more »
Safety and discretion: this a consideration not to be overlooked given the troubles that much of the world faces on a daily basis. For young people choosing to study in Switzerland, this security offers a reassuring and comforting framework in which to develop fully with confidence.
Opening doors to the world's universities: the diversity of schools, summer courses and full academic programmes on offer in Switzerland ensures that a student's final qualifications open academic doors throughout the world. Many enter universities in the UK such as Oxford, Cambridge, the London School of Economics, Imperial College and University College London, while others choose prestigious colleges and universities in the US. Read more »
Modern teaching methods: Switzerland is, of course, home to Piaget and Pestalozzi, key figures in educational development and theory and their principles are still very much in evidence in our teaching.
Learning in the heart of Europe: one crucial reason for choosing Switzerland is its geographical location at the crossroads of Europe, with national boundaries with France, Italy, Austria and Germany. Although not officially a member of the European Community, Switzerland is an influential country at the heart of Europe.
Cultural diversity: within Switzerland there is a natural cultural diversity since there are four national language areas. Yet, these differences make for successful cohabitation and the Swiss are known for their tolerance, respect and understanding for others' lifestyles. Read more »
Multilingualism: with four national languages – German, French, Italian and Romansch – not to mention a large international population of English speakers, multilingualism is a key part of the school experience in Switzerland. Read more »
World-class study options: Students from over 100 different nations currently study in Switzerland and can choose to follow the British A Level programme, American High School, International Baccalaureate, German Abitur, French Baccalaureate or Swiss Maturité. Read more »
A natural playground: whether it's the freshwater grandeur of Lake Geneva, the beautiful mountain villages that ooze charm and tradition, or the sheer, imposing majesty of the Alps, Switzerland is a country that offers some of the finest landscapes in the world. Read more »
One of the happiest places on earth: the first World Happiness Report from Columbia University ranked Switzerland the seventh happiest place on Earth, well ahead of countries like the United States, France, Australia, the United Kingdom and New Zealand.
Why not speak to us about schooling in Switzerland? Feel free to contact us or book a tour of the campus when you are next in Lausanne, Switerland.