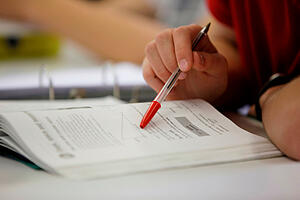 Brillantmont has been accredited for over 30 years by the Council of International Schools and the New England Association of Schools and Colleges. These two organisations work globally in a range of education-related areas, one of which is Swiss school accreditation. There are approximately 660 schools in 120 countries, which are fully accredited by CIS and a further 440 associated post-secondary institutions.
The process of accreditation follows a cycle, in which a school is constantly striving for improvement. It is not an inspection; rather, through self-reflection from all members of the school community on all aspects of school life, it provides the opportunity to improve the quality of education offered at the school.
Accreditation is also important to prospective families, who are reassured that the school maintains a certain quality, as they find therein, internationally recognised standards.
Brillantmont is preparing to undertake its ten year re-accreditation and to do so, needs to evaluate all aspects of school life – the teaching and learning, the boarding, the school governance, the operational systems and more, always bearing in mind the school's Philosophy and Objectives, which are at the core of our modus operandi. This self-study will involve all members of the school community – parents, teachers, alumni, all members of staff. Considerable time and effort is required, however at Brillantmont, we know the benefits of school accreditation. Thus, as we move ahead, it is with great excitement and passion as we continue the school's journey towards excellence.
(Source information: Mrs Lesley Stagg, Council of International Schools)