This is part two of a series on boarding school life. We explore what it means to be a boarding school student in Switzerland with the two Heads of Boarding at Brillantmont International School.

Below Brillantmont's Head of Boarding for Girls, Victoria Charles, gives us a glimpes into the daily life of her boarding school students. In this interview, Victoria shares with us some of her favorite activities and learning opportunities provided by the programme.
Q: What is your role at Brillantmont?
I oversee the care and welfare of our students, making sure they are well cared for, feel at home, have all of their social and emotional needs met, and feel happy and well supported. I work with a team consisting of our academic and health departments to make sure that the students are receiving the best care we can give them and ensuring that they leave us with the knowledge and skills they will need to succeed in the wider world.
Q: What is your background?
I joined Brillantmont in 2013 as a houseparent for the Middle school girls. Prior to this, I studied education at The University of Plymouth, UK, and spent several years working with and supporting teenagers with additional learning needs and behavioural difficulties. The majority of these children were within the UK state care system and had difficulties integrating into society. I supported them to become independent young adults.
Q: What are some examples of activities in the houses and boarding programme?
Activities at Brillantmont vary greatly. In boarding we encourage our students to be proud of their heritage. We run several international evenings each term where students are invited to host a dinner and cook traditional foods for all of their fellow boarders. There are also several other large occasions throughout the year, including Halloween, Thanksgiving and our boarders Christmas Dinner.
When the school day ends, there is a varied extra curricular programme - sports, music, art and drama being just a few of the options available. Being situated in the city centre also means we can take advantage of theatre trips and other cultural events and these fill up our evenings on a regular basis.
Weekends are very busy and there is at least one excursion each week, with the norm being two or three. These can range from small outings such as ice skating or mini golf, to bigger activities such as visits to other cities and theme parks. We want our students to get the most of their time in Switzerland and encourage them to get involved in as many different excursions as possible.
In the Spring term we also take advantage of Switzerland's natural resources and run a ski trip each weekend (weather permitting) for the duration of the term. There are also several opportunities for residential trips each year including the annual ski week and international trips in the October half term and May bank holidays.
Q: What makes the Brillantmont boarding programme unique?
Brillantmont is a very small school with a very low ratio of staff to students. This means we are able to give each individual student the care and attention they need both to feel at home in the boarding school and to get the most out of their time with us. Students live together on floors, with a member of the boarding team. This gives them a feeling of having their own small family within the wider life of the boarding family and makes for a homely and welcoming atmosphere where our students feel supported.
Q: What is the most enjoyable part of your job?
I enjoy watching our students succeed. It is wonderful to watch them when they have realised their success, whether this is by hosting an international evening, learning to ski, or passing an exam they were worrying over, it is always a pleasure to witness their achievements. I also enjoy learning about them and where they come from. Our students are always proud of their background and keen to share their language and culture. It is great to be able to get to know more about them and what we can do to make the best possible environment for them.

To learn more about our boarding programme, click here.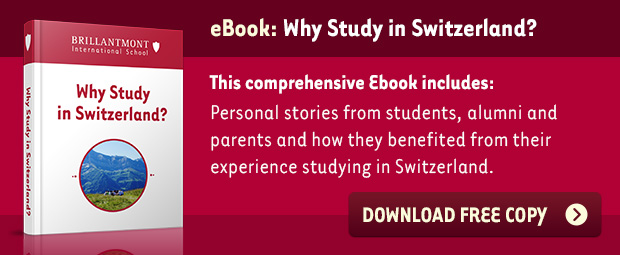 See additional blogs of interest here:
The Pain of Separation: A Parent's Concern

How does the Swiss Public Education System Work?