International schools have so many things going for them: excellent academics, beautiful campuses, prep for universities all over the world, extra-curricular activities, to just mention a few. However, one of the biggest highlights is the multicultural environment. This blog will explore how this enriches the boarding school experience.

Multicultural Switzerland
Switzerland has a long history of being home to some of the world's best international boarding schools. Attracting students and professionals from all over the globe, Switzerland is a small but incredibly diverse nation.
Students attending international school here can travel just a few short hours to get to any of the five countries that border Switzerland. Cultures mingle and mix easily in this environment and the immediate access to the rest of the world makes Switzerland the ideal place from which to study.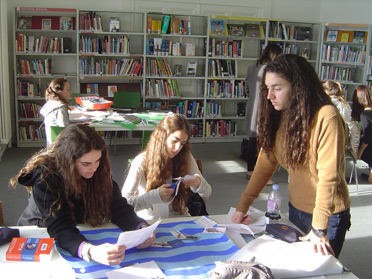 No matter the class or occation, students can practice their language skills
Exposure to Languages
In addition to the four official languages in Switzerland – German, French, Italian and Romansch – English is heard across the country on a daily basis. At an international school, you have the benefit of being around students and staff not only from this diverse nation, but from all over the world.
Whether it is learning Japanese from your roommate or practicing your French at the local bakery, international school is the ideal place to improve your language skills.

Make friends that will last a life time!
International Friendships
There is no better place to make friends from across the globe than at an international school. When the person next to you in History class is from China, your roommate is from Spain, and your study partner from Russia, you are steeped in multiculturalism at every turn. Do not let this opportunity pass you by! Make friends that will last a lifetime.



Our boarding programme staff approach students with cultural sensitivity and knowledge
Diversity of Staff
Your fellow students are not the only ones at an international school that provide multicultural opportunities. The staff at schools like Brillantmont International come from diverse backgrounds as well. They provide mentorship and guidance with cultural sensitivity and knowledge.
Evenings of multicultural celebration and sharing are often organized and encouraged by the staff to help maintain a welcoming family atmosphere within the diverse population of the school.
Learn more about Brillantmont International School here!

To learn more about these and other topics at Brillantmont International School read some of our other blogs:
Why Study in Lausanne: International & Multicultural Centre
Life in Multicultural Lausanne