"A family sized school, a family-owned guest house – the boundaries between education and resort blended together in domestic intimacy."
~ Francesco Della Casa, Cantonal Architect and friend of the Frei family
In 1900, Lausanne was home to more than one hundred Swiss boarding schools. Known for being a secure centre for excellent schooling, Lausanne has a long history of education.
A unique claim to history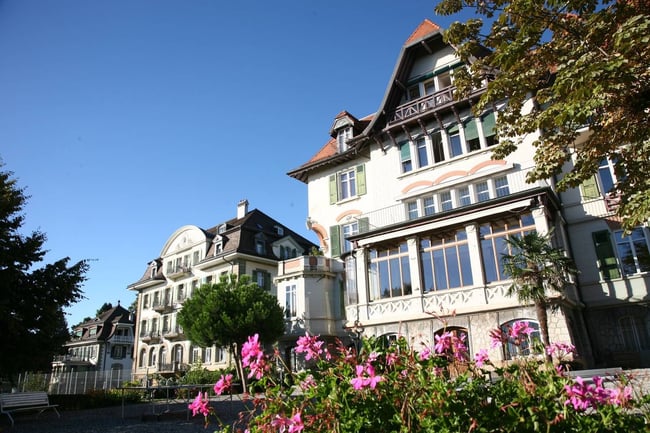 Château Brillantmont and Monribeau buildings in the summer light
Brillantmont International School is one of only a few international schools dating back to that period, that still exist in this Swiss cultural and sporting capital. This article will share some of this incredible history.

Brillantmont was founded in 1882 in the town of Lutry and was known as Pensionnat Heubi. A few years later it was moved to its current location above Lake Léman (often known as Lake Geneva) in Lausanne. Since its establishment, Brillantmont has been under the same ownership and has remained a family business.
Château Brillantmont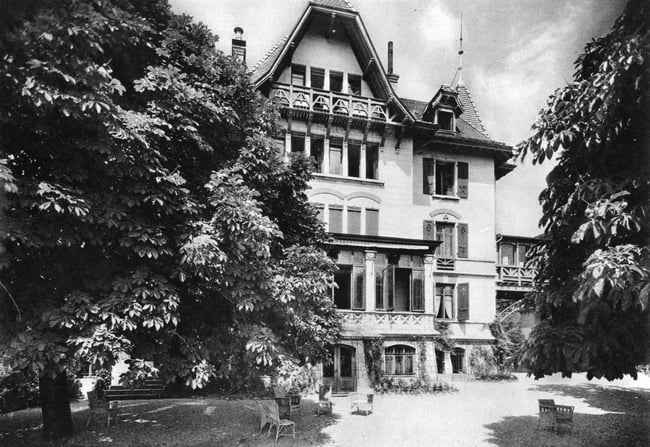 Château Brillatmont in the early years

In the 1890s, the family purchased a piece of land in Lausanne on the Bellevue hill above the lake and commissioned the first building, Château Brillantmont, to be designed and built by the celebrated architect, Francis Isoz.
This one-of-a-kind building was designed in the distinct style called, "Heimatstil". Some unique features that one can still enjoy today are several stained glass windows, turrets and oriel windows on the sidewalls and beautiful carved shutters.
In 1904, two identical buildings were added onto the Château by a breathtaking gallery suspended by joists and steel arches. These additions are now used for accommodation and teaching spaces.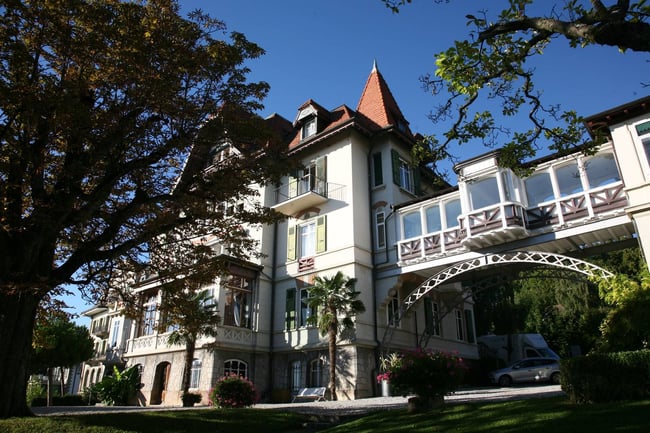 Suspended gallery addition, 1904
Villa Monribeau & Pierre Grise
Not too long after Château was established, Villa Monribeau was built with a limestone basement, spectacular south facing balconies, a front porch with Jugendstil stain glass windows, and large arched windows in the communal spaces inside.
Pierre Grise was built by a different Swiss architect, Henri Meier. This house boasts a sweeping veranda with Heimatstil ironwork.
The Canton of Vaud has designated all these buildings as historical heritage sites, underscoring their incredible history and value to the city. This means that the Heritage Service must first approve all changes made to the buildings.
Modernisation of the boarding school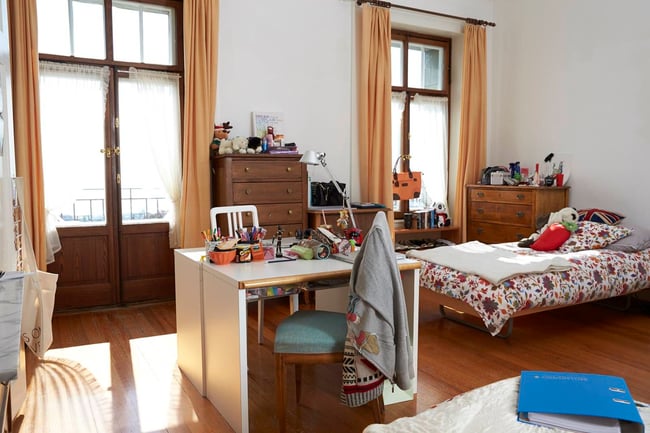 A typical bedroom at Brillantmont
In the 1990s, the great grandson of the school's founders and architect in his own right, Eric Frei, began major renovations and updates to the historic buildings. As architect and Frei family friend Francesco Della Casa put it,
"Nowadays, the reception rooms are uncluttered and reflect the seriousness and efficiency of the school's leaders, whereas the level of comfort in the bedrooms has considerably increased."
Technology and other equipment have been continuously updated and in 2003, well before Facebook, Brillantmont created a virtual campus, allowing both students and parents to visualise and interact with the campus online.
A New Sports Centre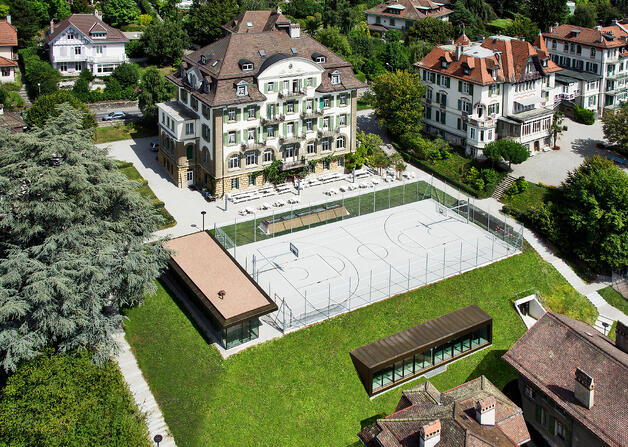 The Françoise Frei-Huguenin Sports and Cultural Centre seen from above

In 2012, Brillantmont inaugurated its most recent addition to the campus. Since space was limited and there was a desire to retain the beautiful gardens and spacious outdoor areas, it was decided to put the new sports hall underground, which consisted of excavating nearly 9000 m3 of earth, burying the new hall underneath the existing sports ground, lighting it from above via four light shafts, then putting the sports ground back on top."


This building, The Françoise Frei-Huguenin Sports and Cultural Centre, rounded off an already distinct campus, unique in this area.

For more information on Brillantmont, its campus and programmes, click here.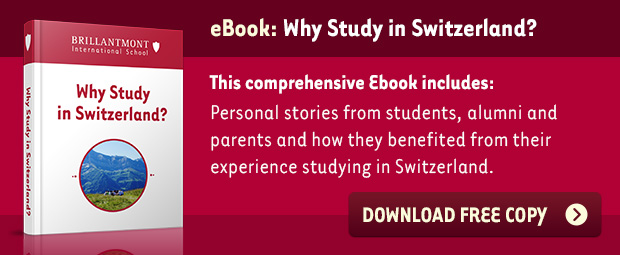 The following articles might be of further intererst:
The History of Brillantmont, Part 1: An Overview
Everything parents need to know about Swiss boarding schools