Election fever is the subject of numerous headlines across the world right now and never more so than here at Brillantmont for this year's Student Leaders for House.
One of our core values at the school is to nurture collaboration and leadership skills through challenge, building courageous, confident critical thinkers. Our House system offers the ideal opportunity to enable this. We have five Houses at the school , all named after famous people linked to Switzerland – Rousseau, Chaplin, Einstein, Anker and Piccard. The Houses meet on a weekly basis and are composed of students of different ages and nationalities, day and boarding. The purpose is to bring them together, to build and strengthen relationships and to help them get to know each other. Through teamwork and collaboration, they work to plan House events which are fun, memorable and create a sense of belonging.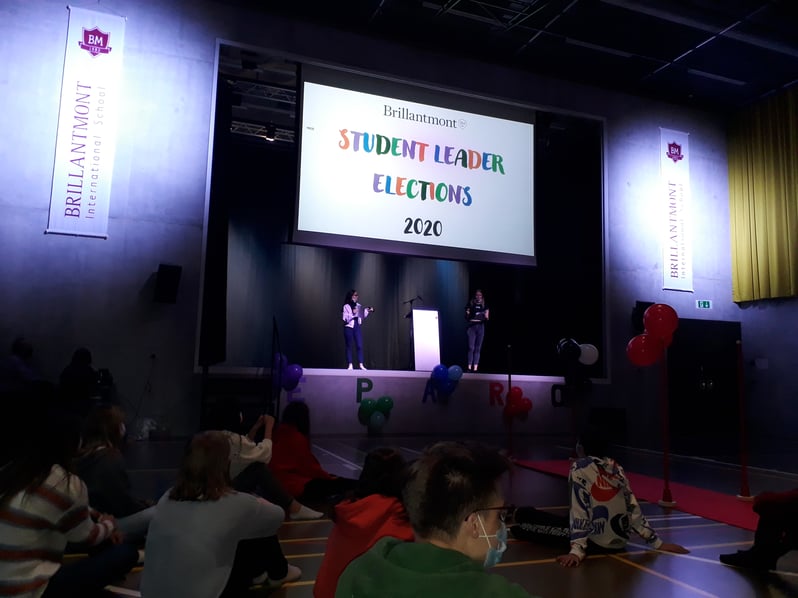 The role of Student Leader is taken very seriously by those who presented as candidates. They led very creative election campaigns and their rousing closing speeches demonstrated their strengths, their integrity and their profound attachment to the school.
Elena from Russia was elected as House Leader of Rousseau. She already carried out this role two years ago but it clearly didn't put her off and she believes in the power of House. Her objectives are clearly defined. "I want to be a leader who listens. For me, it's about the human contact and I want to give the members of my House the choices to shape it into what they want it to be."
Student voice, listening skills and empathy are clearly key as is a sense of organisation, since each House organises special events periodically.
Every House has an adult tutor who meets all members individually once every two weeks to touch base on the student's life, studies and offers a pastoral role of support.

Congratulations to the Student Leaders 20-21. We look forward to an inspiring year under your lead.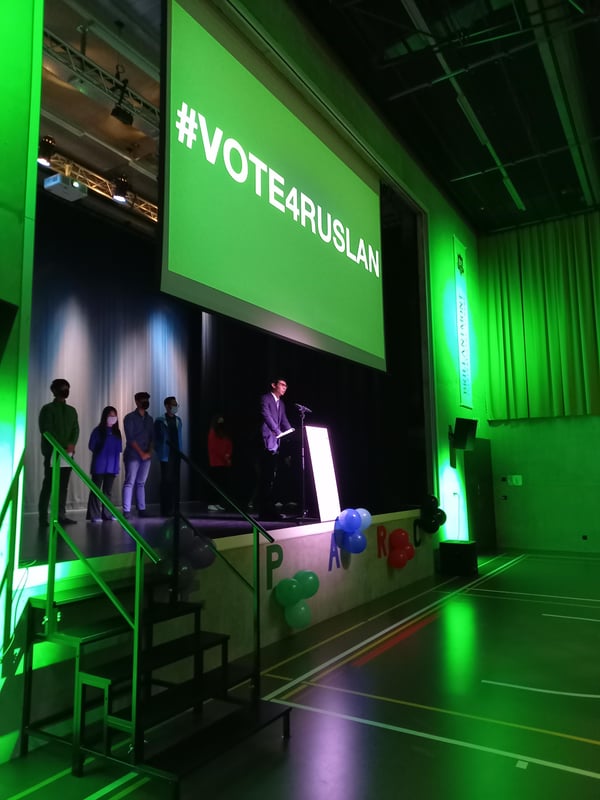 Brillantmont International School
Founded in 1882, Brillantmont International School is one of the oldest boarding schools in Switzerland and is still owned and run by the founding family. The school welcomes boarding students and day students, aged 13-18 (Grades 8-12) from over 30 nationalities. Brillantmont students follow stimulating courses leading to internationally recognised examinations (British IGCSE, A Level ; American High School Diploma with SAT and IELTS).
Small class sizes ensure that every student has close teacher attention and is constantly challenged.

Students also enjoy the many extra-curricular activities available, which include Habitat for Humanity, Model United Nations, sailing, cooking club, events planning club, vocal club, rock band and numerous sports clubs such as tennis, volleyball, football, trampoline and many more.


If you would like to know more about our course content, or if you have any questions for our staff, please don't hesitate to get in touch. Call +41 21 310 0400 or email admissions@brillantmont.ch us at Brillantmont to speak to a member of the admissions team, and we will be happy to answer your questions.