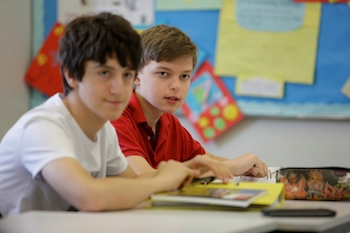 The choices that children make in their middle school years (ages 11-14), are often what lead them towards a successful high school and university career. This is why it is incredibly important to choose the right Middle School for your child. It is in these years that students must have access to a wide range of subject matter and new experiences because this is the time when strengths and talents are identified and passions are born.
In Switzerland and across the world, parents turn to international schools for the education they want for their children. International schools like Brillantmont provide a unique multilingual and multicultural environment that promotes a form of education that encourages students to embrace what the world has to offer and seek out new people and experiences from a young age.
Diverse student body
Students at international schools come from all over the world, which provides the opportunity for friendships and connections to be made across geographical and cultural borders. When choosing a Middle School, it is important to take into consideration the other students your child will be around. At an international school, they will not only get to know children with many diverse experiences from all corners of the globe, but they will also meet students from the local country in which the school is located who wish to get an education that will give them the opportunity to seek employment or higher education abroad.
Strong teachers
Another key aspect of middle school education are the teachers. When looking into various international Middle Schools, it is important to talk with teachers and get a sense of the academic environment. At Brillantmont our class sizes are small, which enables students to have close contact with teachers. Our teachers who stem from assorted cultural backgrounds, are able to develop individual relationships with each child due to this intimate learning environment.
Facilities
School facilities - academic, recreational, and living - are central to your child's middle school experience. Brillantmont has a secure campus with eight buildings nestled in a large garden. We have a sizable sporting and cultural centre at the heart of our complex that houses a vast range of sporting facilities as well as a performing arts stage and small recording studio.
Location and Bilingual education
Whether you are sending your child abroad to a boarding middle school or you live in the country where the international school is located, choosing the right school for your child often involves considering what the location has to offer. Brillantmont, located on the Lake of Geneva in Switzerland, is situated in the perfect place for a bilingual education. International schools often utilize English or French as their main language of learning. However, Brillantmont, located in the heart of French-speaking Switzerland, is able to immerse its students in both languages simultaneously. In addition, the German and Italian parts of Switzerland are only short train rides away and offer great opportunities for students to be exposed to other cultures and languages.

Choosing the right international middle school can be a challenge. Feel free to talk with one of our staff members at Brillantmont to learn more about what we have to offer.

For more information on our middle school program click here. In addition, if you have any further questions please feel free to contact us online via our contact form.