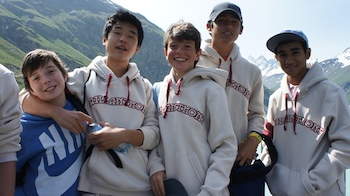 Often the ages of 14-17 are highlighted as key for a students' development and for laying the foundation for university. However, the choices that children make in their middle school years (ages 11-14), often based on what they have been exposed to at this time, are what lead them towards a successful high school and university career. It is in these years that students must have access to a wide range of subject matter because this is when strengths and talents are identified and any weaknesses can be addressed.
History of Swiss Education and the International Middle School in Switzerland
All over the world Switzerland has a reputation for educational excellence and innovative thinking. This is partly thanks to famous educationalists that have come out of Switzerland such as Piaget and Pestalozzi. Along with Italy in 1909, Switzerland introduced Montessori education into the schooling world and the International Baccalaureate system, which is now used all over the world, was founded in Switzerland.

Another area which is often highlighted in Swiss education is language. The country boasts four official languages - German, French, Italian and Romansh - and English is widely spoken as the language of business and commonality. This environment is ideal for students wishing to be immersed in languages, improving their skills, and benefiting from a multicultural atmosphere.
The Brillantmont Middle School Programme
The middle school programme at Brillantmont is equivalent to the American grades 6-8, or the UK years 7-9. Once past these important years, students can decide whether to progress into American or British high school courses of study. However, in our middle school syllabus we cover the same elements as the UK National Key stage 3 curriculum.

Most students study both French and English with the option of taking a third language from the 6th grade/year 7 onwards.

Classes are offered in a diverse range of subject areas in the arts, sciences, and social sciences. With this strong foundation students are able to discover their passions and get a feel for what they might like to study further in high school and beyond.

For more information on our middle school programme click here.

In addition, if you have any further questions please feel free to contact us online via our contact form.