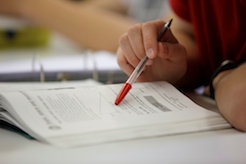 In the middle school years, children learn important skills that form the foundation of later learning. Every parent wants the best possible education for their child. However, it is not always easy to choose the school to send your student too. Here are six key areas that are important to look into when searching for the best middle school in Switzerland.
1. Academic excellence
It is important to give middle school aged kids a broad base of classes that will build a foundation for their future education. At Brillantmont we offer a full range of subject matter from drama and music to art and citizenship. In addition, schooling reaches beyond the classroom and into extra-curricular activities, sports, and field trips throughout Switzerland's diverse cities and incredible landscapes. We prepare our students to eventually take either the British IGCSE/AS or A level exams or the American SATs, IELTS and Advanced Placement exams in high school. With this educational process, Brillantmont allows students to maintain a certain flexibility between these systems.
2. Language exposure
In addition to the wide range of arts and science classes, parents come to Swiss international schools looking for good language education, and for a good reason: Switzerland has four national languages and bilingual education is very common. With our rapidly globalising world, proficiency in more than one language is becoming more and more important. At Brillantmont we teach in English and have both English and French classes with English as an Additional Language (EAL) to support students learning English if required. We also offer other languages – German, Spanish, Italian and others such as Chinese or Japanese on request.
3. International orientation
Although academics are a very important part of your child's middle school experience, a well-rounded education consists of more than book learning. Children are exposed to all kinds of new ideas, people, and places when they study at an international school. A school like Brillantmont can offer an introduction to a world where people from many cultures intermingle and work together. Students come to Brillantmont from all over the globe, which allows diverse friendships to develop and begins to orient students to a rapidly growing international network both of our school and the wider world.
4. Safety and supervision
It is essential to have a safe and supportive environment for your child as they start middle school. Finding a school that provides full time supervision and care as well as teachers and staff who are dedicated to their students is very important. Since Brillantmont offers unique, small class sizes, teachers and staff are able to develop relationships with each student and thus provide them with the best possible care. A school nurse is available 24 hours a day and in case of emergencies the hospital is only 5 minutes away.
» Find out why a small school provides better safety in this article.
5. Facilities
The nature of the facilities at the middle school you are considering often plays into the decision making process. The Brillantmont campus includes eight buildings scattered throughout a large, beautiful, and secure garden. These buildings house classrooms, a large science laboratory, student rooms, lounges, a formal dining room, offices, and much more. In the centre of campus we have a new multi-purpose sports and culture hall that includes a vast range of sporting facilities as well as a performing arts stage.
» See a Google Map view of the Brillantmont Campus
6. Physical surroundings
The location of the middle school can influence the cultural introduction and exposure that your child receives. With a location on the shores of the Lake Geneva, Brillantmont is in the perfect place to allow students to explore both the diverse selection of Swiss cities and the incredible natural landscapes of mountains, lakes, and rolling farmland.