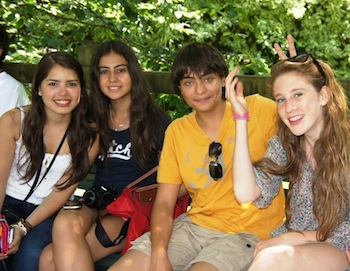 Our students are always sad to leave Brillantmont International School come graduation, yet there is a wondrous life beyond that we do our utmost to prepare them for. Hear from four students and alumnus about their time here at the school, their experience studying in Switzerland and how it has helped ready them for university and the wider world.
"At Brillantmont, students get to know their peers and often end up working as a team, which will significantly help them in their future careers. Moreover, the clubs, excursions, and school activities further expand their abilities. Brillantmont is everything which is needed for children to mature into adults." – Cristina S, parent
"I can genuinely say that Brillantmont has provided me with a lot of the skills that will allow me to succeed in the future and that have made my applications to top British universities possible." – Marc G, student
"Brillantmont grows on you, it becomes your family. Brillantmont gave me such incredible academic opportunities and I cannot be more grateful. The calibre of the teachers and the care I received is unparalleled, all because Brillantmont is a school that places so much importance on personal connections. Brillantmont also teaches you a number of valuable life lessons, like how to pick your friends wisely as well cherish the invaluable personal connections that you make here." – Anastasia S, student
"Moving to Switzerland and having to learn multiple languages, figuring out how to interact in a positive manner and uniting individuals with different cultural norms became second nature by the time I was in high school; those skills have transferred very well in the global marketplace in which I navigate today. For those who were engaged in the Model United Nations programme, their skill-sets were even further developed and refined. – Park H, alumnus
These testimonials and more are featured in our latest ebook, called Why Study in Switzerland? Download a copy and read more touching personal stories from parents, students and alumni, as well as interesting information about Swiss culture, tradition and academia.