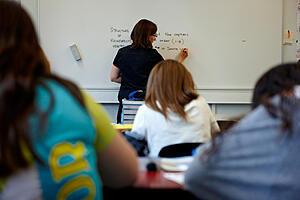 Parents always have lots of questions about potential boarding schools for their children, but what about the children themselves? Moving away from home to study can be as nerve-racking as it is exciting, so let's answer 8 questions future Brillantmont boarders may be asking to put some of those concerns to rest.
Question 1: Will I feel lonely?
Definitely not! From the moment you arrive at the school you will always be part of the Brillantmont family. The school is quite small, so you'll actually find it very hard not to meet other children! There are also lots of interesting after-class activities, social events, excursions and sports clubs. Oh, and let's not forget breakfast, lunch and dinner, when you'll eat with everyone in the school together.
Question 2: Will I be able to keep up with my classmates?
Children have different talents, and so learn subjects at different speeds. It's all about finding ways to learn that suit you, and with classes as small as they are, our teachers can give you lots of attention to help you do just that!
Question 3: School is boring, so why would I want to live in one?
There's no time to feel bored at Brillantmont! Check out what a typical day in the life of a Brillantmont boarding school student looks like and you'll see there's just too much to do, too many friends to make, too many places to go and way too much fun to be had.
Question 4: What are the teachers like at Brillantmont?
We think our teachers are fantastic, kind, compassionate and caring. So many of our leavers form lasting bonds with their favourite teachers, and we're sure you will too! What's more, our teachers are human beings, just like you, and will always treat you as such.
Question 5: What happens after school and at weekends?
So much! During weekdays, after-school activities include sports and clubs such as Model United Nations, Habitat for Humanity and our various musical groups, while weekends are usually a time for excursions and other social activities! Depending on the time of year, skiing, water-sports, soccer, cycling, singing, dancing, trips to Geneva, trips to Zurich, trips to the Alps… the list goes on and on!
Question 6: Will I make friends?
There's no way that you won't! You won't be the only newcomer, others will be thinking and feeling exactly the same way as you. Because of this, you'll make new friends very quickly, some of whom will be your friends for life.
Question 7: Where will I be staying? Will I be sharing a room?
Most students share a room with another student of the same age and gender, though there are a few single rooms available. All boarding staff live on the campus and help create a warm environment in each of the boarding houses.
Question 8: Who can I go to if I have a problem?
Never, ever be afraid to ask for help if you need it. As well as teaching you lots of interesting things in class, our teachers are there to care for you and make sure you're happy at Brillantmont. You'll also get to know the staff in your boarding house really well, and they're always really great at solving any problems.