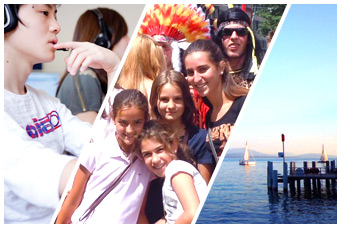 With winter upon us, it may seem like an odd time to discuss our Summer Course. However, with places limited and registration opening soon, let's shift our thoughts for a moment to sunny days of fun activities, excursions and a language programme like no other.
There are many different summer courses available in Switzerland, ranging from those with a stringent academic focus, to programmes designed more for adventurous, sporting or outdoor activities. It is important that your children be taught skills to help them succeed later in life, while at the same time affording them the freedom to enjoy the more exciting things in life that all youngsters should. Summer is a time for relaxation and fun, but it can also be a valuable opportunity to continue a child's education in a different environment to the classroom.
What Makes the Ideal Summer Course?
We believe that the ideal summer course is one that provides children with plenty of opportunities to enjoy themselves and to develop their learning. This is why Brillantmont International School in the beautiful city of Lausanne is such a fantastic choice.
We have more than 130 years experience of educating children from across the globe and our summer course is packed full of fun, interactive learning and has received glowing recommendations from students that return year-on-year and their parents.
Brillantmont offers the perfect mix of high quality education combined with a vast number of activities and trips that will appeal to all children. Wednesday afternoon field trips see students enjoying a visit to a chocolate factory or exploring the art of photography at a photo workshop, whilst a weekend might find them hiking on a glacier, or climbing then abseiling down a rock face.
A Language Programme Like no Other
Brillantmont's summer course isn't only activities, it's a language programme too, offering French or English at all levels.. We offer our summer students a full, interactive education in small classes in a supportive friendly environment that encourages children to make rapid progress. In addition, we offer a range of activities and trips through which they can further practise their language skills, in real-world settings and everyday situations.
Location is also an important consideration when choosing a school. Brillantmont is fortunate to be based in the beautiful city of Lausanne, with its magical lake, charming old town and many festivals, concerts and sporting events held throughout the summer.
Summers That Last a Lifetime
The friendships your child forges during their time at Brillantmont will be with them for a lifetime, as will the many language skills they learn and the abundant joyful memories they take away.
Do check out the list of Swiss summer school opportunities at Brillantmont and you'll quickly realise that this summer course is so much more, gifting your child a summer that will not only enrich them linguistically and educationally, but provide them with a genuinely life-enhancing experience.
Click here to find more information on the Brillantmont Summer Course how to register for the 2014 programme »