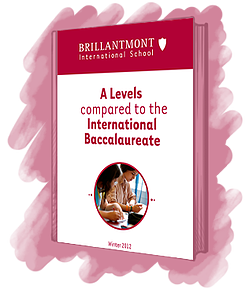 International A Levels based on the British system, or the International Baccalaureate (IB)? You've read our E-book, but what do our teachers think, who teach A Levels to our hardworking students every day?
Victor McClean, History / MUN teacher / Social Sciences Co-ordinator, says:
"A Levels are ideal for students who wish to specialise early by building on their academic passions and strengths. They offer a challenging and rewarding educational experience to the student. The top grades are even granted credit in US Colleges.
"Perhaps the most appealing aspect of A Levels is the possibility for students to drop their weak subjects and focus on their strengths and interests. The level of thinking required really prepares students for university life."
Dr Rachael Walker, Science teacher / Science and Mathematics Co-ordinator, adds:
"For me, the main advantage of taking A levels is that it is possible to specialise and go into greater depth. For example, for students who wish to pursue studies in Science, it is often advantageous to take all three sciences, since they reinforce each other. This is not possible in the IB. Also, a student with A levels will be able to go into more detail in their preferred subjects.
"I studied and taught at a university in the US. I know that A levels are highly regarded and are seen as a sign of a promising, self-motivated and well educated student."
A Levels at Brillantmont
Brillantmont's A Levels examinations are provided and assessed by Cambridge International Examinations (CIE.org.uk). This short video explains more about the CIE programme:
Find out more about the differences between A Levels and IBs by requesting a free copy of our white paper »