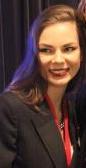 "I will never forget the challenge of my first MUN class -my fear of public speaking, my lack of knowledge and confidence especially when confronted with graduates in the same class! These fears decreased over time and I found comfort that others felt the similar emotions. However, the stress of attending my first THIMUN conference in Singapore was off the scale, how would I perform in such a huge conference? There, I was struck by how good other students my age were, how hard they worked and how motivated they were but again I was comforted by the fact many felt just like me… terrified!
All this changed when I received encouragement and support from the Student Officers managing and leading the conference. They were confident, impressive individuals left me inspired and amazed. After my first conference, I never thought I could be a student officer but my conference and MUN experience gave me the confidence. After my second conference I was determined that one day I too would achieve the status of a THIMUN Student Officer.
In preparation for the conferences I had to complete three, 5000 word research reports and attend a one day training workshop. Whilst challenging, I learnt a lot and this process gave the me knowledge and the confidence needed to successfully manage the Human Rights Commission. Nothing can compare to adrenaline and the sense of achievement of supporting and managing 150-200 delegates. I had a real life opportunity to organise, lead, manage and work as part of a team. This opportunity gives me the edge in my university applications and courses as well as an unforgettable experience.
You never fully get over the fear of public speaking; you simply learn to hide our nerves and take comfort in the knowledge that the more you prepare and practice the better the performance will be. Model United Nations teaches you learn by experiencing the highs and lows. I cried in the closing ceremony of my last THIMUN conference, as did many others. Conferences are challenging, rewarding learning experiences but they are also enormous fun!"
- Anastasiya Shevchuk