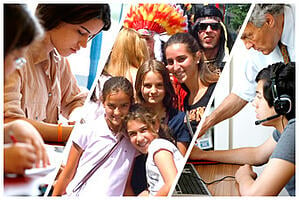 The Brillantmont summer course offers students the chance to experience new activities and, for some, a chance to settle in to Brillantmont before starting their schooling in Switzerland.
The course offers intensive language training alongside sporting activities and cultural excursions. For between two and six weeks students can take part in the perfect summer course for making friends, learning new things and challenging themselves.
Summer Course Memories
Here, some of the international students share their memories of the Brillantmont summer course:
"My favourite thing about the BM summer course was playing hockey in the new gym, because you move very much!" - Moritz Hoock from Germany.
"I love this summer course because it is a great place to make new friendships. I've learned a lot about Swiss history and the touristy parts of Switzerland." – Sekip Aki from Turkey.
"This summer has been the best summer of my life! I loved it because I've met new people and become friends with them. I love my teachers, the atmosphere, the excursions and I've enjoyed every moment being in Brillantmont." – Tatiana Kuzmina from Russia.
"This summer course was really good. I loved being in Lausanne with the view of the mountains and the lake from the campus. There were many excursions, activities and sports, and it was lovely to be with lots of different people." – Eduourd Van Grembergen from Belgium.
"Brillantmont is one of the most interesting and exciting places I've ever been to! You can make many different friends from countries all over the world. In Brillantmont, you can play many sports and this year a new sports centre has been built. I really like it because it's the perfect place to do sports activities." – Pavel Kolpakov from Russia.
This year's Summer Course is now but a wonderful memory, as captured here in our videos and in the testimonials of our students. If you or your child missed out on the all the fun and learning, there's always next year! Download our Summer Course information pack and start planning early.